Manage global, distributed workforces on Google Cloud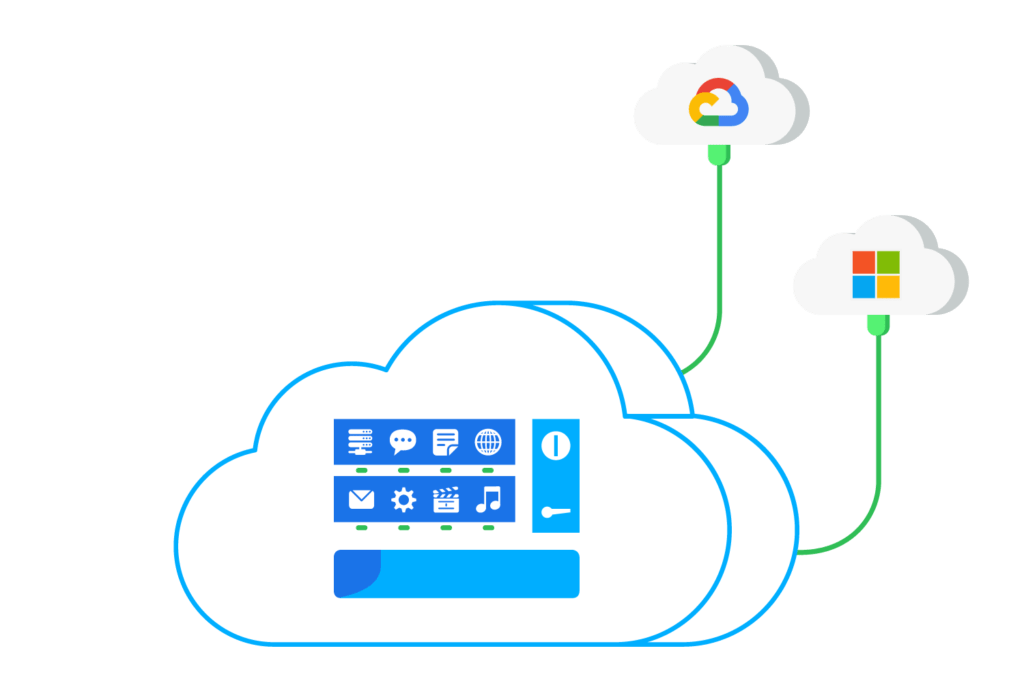 itopia's cloud automation and orchestration software enables organizations to deliver Desktop as a Service (DaaS) to thousands of workers located across the globe in as little as one day. The rapid provisioning process of Microsoft RDS environments is made possible by itopia's intuitive, wizard-based control panel in the browser.
From itopia's unified console, Tier 1 sysadmins with virtually no training can spin up Windows virtual desktops and apps for a variety of use cases in minutes — from light workloads of productivity apps, to heavier graphical and media applications. itopia's automation platform makes this possible with easy-to-add custom images, intelligent user routing to nearest GCP data centers to ensure low latency, all delivered from a unified "point-and-click" console in the browser.
Our software enables the security policies, rules, and permissions from your on-premises AD and readily extends it into Google Cloud with a secure AD Trust. This trust acts as a bridge so that there's no compromise in the security profile of the environment.
Finally, itopia leverages GCP snapshots to maintain robust data redundancy and provide instant disaster recovery. By equipping your workers with remote desktops and apps hosted on Google Cloud, your workforce has secure access to their familiar business apps and corporate data on any device, accessible anywhere.
Equipping your distributed workers
Migrate from your legacy VDI stack to a lightweight DaaS with itopia on Google Cloud. Transition from costly and complex on-premises infrastructure from vendors like Citrix or VMware, and benefit from the dynamic scalability of on-demand cloud resources — only pay for what you use.
Readily enable your global workforce to have secure access to business-critical Windows apps and company data from any device (including the popular Chromebooks) to ensure their continuous productivity from any location.
Swiftly onboard workers by the thousands across multiple regions with your automated provisioning and the ability to build custom images directly from itopia's wizard-based console.
Automate over 300+ critical IT management tasks to allow your Tier 1 sysadmin to manage the full lifecycle of your deployments with ease and no chance for human administrative error.
Cost control lies in your hands with tools for optimizing cloud resource demands: automatically power VMs on and off as needed to match end-user demand, or even schedule VM uptime in advance based on pre-set schedules.
Learn from your environment's resource usage with analytics powered by GCP's BigQuery. itopia generates cost insights to help you optimize your deployment over time and save dramatically on compute and storage costs.
Discover the steps to migrating VDI workloads to Google Cloud
Deploy your existing VDI environment on Google Cloud with itopia's automated discovery and migration features.
itopia's automation will provision VMs with Microsoft RDS server roles, enabling Windows virtual desktops.
It's that simple.
Create new users or import users from your existing Active Directory. The choice is yours.
Build custom images of Windows OSes & Apps and assign them to user groups in any region worldwide. Set up file shares and user permissions.
Manage your entire workforce from a single, intuitive control panel.
You're done!
Now, optimize your new cloud environment by enabling itopia's Auto-Scaling to scale VMs based on real-time user demand. Set schedules for VM uptime so you only pay for what you need, when you need it.
Gain ongoing insights for further cost reduction by monitoring app usage and compute consumption with BigQuery.
5 Reasons why Google Cloud is superior for DaaS
Learn what else itopia can help you do