The itopia team exhibited at FETC and met with educators from all over the country. Here are a few of the themes we heard from FETC attendees:
Educators are struggling to keep computer access and labs on par with curriculum needs.
Many school districts are struggling to find efficient ways of distributing equitable computer access to students without wearing out budgets. To support school curriculum, computer applications and resources need to be readily available from anywhere, on any device, and school-sanctioned laptops must do more than just permit selected internet access. For example, a number of attendees referenced challenges with delivering Adobe and AutoCAD software to students on less expensive devices. They were interested to learn that the innovative, easy-to-use capabilities of itopia CloudApps Classroom solve these challenges, particularly given attendees' negative experiences with traditional VDI and one-size-fits-all DaaS approaches that do not work well for compute-intensive applications.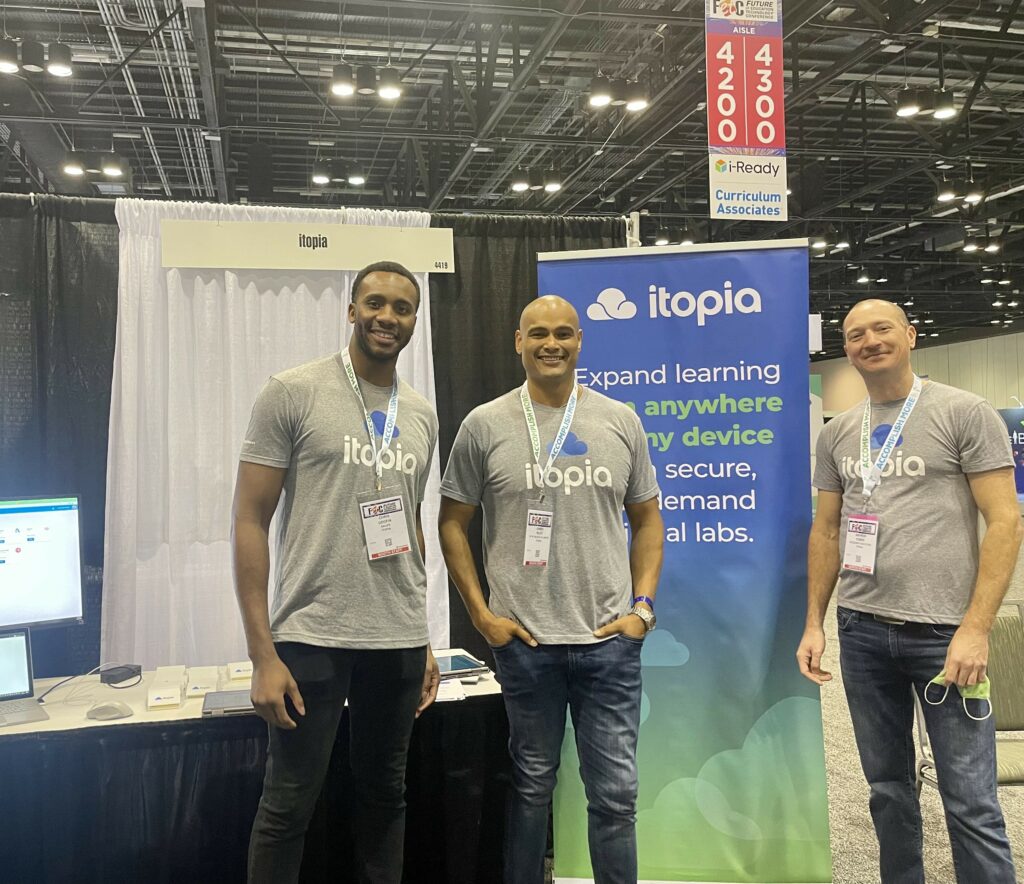 School districts are continuing to figure out how to maximize 1-to-1 device initiatives. 
The vast majority of schools itopia spoke with have 1:1 device initiatives in some form. Many were looking for inspiring ideas at FETC to maximize these initiatives. James Riley, itopia's VP of Sales and Alliances, noted that schools are generally thinking about expanding their 1:1 initiatives as separate from growing their Career and Technical Education (CTE) programs, but both can be mutually reinforcing. 1:1 devices, such as Chromebooks, are meant to be portable and affordable, and therefore, don't offer the compute power of large, desktop machines. Virtual computer labs, where students can access CTE software and other applications through a browser, solve this problem – enabling students to use their Chromebooks in more ways, while also expanding student access to CTE curriculum.
Chris Udofia, Account Executive from itopia, noted that students are starting to learn tech skills at an early age, which makes device usage that much easier. The 1:1 device initiative is a step in the right direction for schools, and virtual computer lab services like itopia CloudApps Classroom can take computerized learning – and CTE – to the next level. 
Esports, interactive gaming platforms, and robotics are innovative twists in education.
Gaming and Esports are a great source of interest and entertainment among the K-12 population, so educators are looking at creative ways to engage students using these interactive platforms. As Andrew Funke, Account Executive at itopia, mentioned, "Gaming, Esports, and robotics were big themes at the FETC event because they make learning a fun, hands-on experience." Schools are creating lesson plans that incorporate virtual games, and Esports teams are fostering a sense of unity, while teaching students how to work together to accomplish missions and tasks. 
Similarly, the world of robotics gives students the freedom to take part in multidisciplinary activities that encourage collaboration and individual cognitive development. Coding also plays a pivotal role in robotics – allowing students to further delve into the areas of science, technology, engineering, and mathematics (STEM). itopia has solutions that enable coding environments too.  FETC hosted a number of robotics workshops and exhibitions that gave attendees insight into the potential of robotics programs in school districts. 
As in past years, the 42nd annual FETC event provided an excellent forum for school administrators and educators to find inspiration on the future of education through technology.